Taking a closer look at research and experiences of SSHD members
~Researcher's Window~
This month we are getting better acquainted with the research of Dr. Meenal Rana, Associate Professor of Child Development at the Humbolt State University.
1. What drew you to do work in human development?
I was always fascinated by human uniqueness, diversity of experiences, resilience in face of adversities, and development of self. The quest to study these concepts scientifically and systematically drew me to the field of human development.
2. Did you have a mentor or researcher who had substantial influence on your path or on your work?
I have been very fortunate and grateful to have extraordinary mentors in my life, such as Drs. Tom Luster, Deborah J Johnson, Desiree Qin, and Miles McNall. I learned many important lessons during my interactions with them. I highlight a few here.
I would like to honor the memory of Dr. Luster's mentorship, who unfortunately passed away in 2009 during my doctoral studies. I had come to believe I was the only student that he had until his funeral when so many of his students shared similar experiences to mine. I was astonished to realize that he gave each of his students undivided attention such that each one of us felt special (at the time, he had 19 doctoral and even more masters students). As a faculty in the department of Child Development at Humboldt State University, I have adopted his model of being fully present for my students and colleagues. He encouraged me to ask four questions for the betterment of my scholarship: "What is the research question?" "Why am I interested?" "How am I going to answer the question?" and finally "So what?" The "so what" part is important for mainly two reasons: 1) Is it novel? 2) How it is going to benefit the field?
Drs. Johnson and Qin emphasized the importance of creating a niche of like-minded scholars and professionals. Their work on social justice issues, advocacy for children and families of minoritized backgrounds, and decolonizing human development inspire my current scholarship and advocacy. Both of them work with research teams of brilliant graduate and undergraduate students, modeling the multi-tiered mentoring and connecting them with their alumni like myself and others in the field. Dr. McNall, who is a community researcher shared many important lessons but the one that stuck with me the most is, "As a researcher, always approach the communities with the utmost respect. Ask positive questions that highlight their strengths instead of trying to find problems."
3. You have a range of important work, select 1-2 findings that you feel are key contributions to human development and describe those in brief.
My research, local and international, includes identity development among minoritized adolescents and young adults, including Sikh youth in immigrant families, Latina mothers in college, and school youth in India. During my graduate program, I have worked with Sudanese Lost Boys—the unaccompanied refugee minors who were resettled in Michigan. I utilize lifespan, ecological, intersectional, and resilience frameworks in my work. Most recently, I am drawn to trauma research, which I incorporate in my teaching and advising/mentoring (Dr. Bruce Perry's and Dr. José Bowen's scholarship). The three areas of my scholarship include:
Examination of ethnoreligious identity formation among Sikh immigrant youth and their parents' socialization practices: Due to their outward identity markers (i.e., turban and beard), Sikh men and boys are subjected to religion-based discrimination and harassment in workplaces and schools that has implications for ethnoreligious identity formation. Since the 9/11 attack, increased Islamophobia and mistaken identities have affected the health of both Sikh and Muslim communities in the United States. Sikh immigrant families negotiate their ethnoreligious identities and adapt their socialization practices by balancing safety and enculturation processes. Sikh immigrant communities provide socio-cultural and human capital to build ethnoreligious resilience and to support the family's socialization processes.
Youth-adult partnerships, identity exploration among youth through engagement in environmental and social justice issues in India: This project started as a collaboration with a non-profit organization in India, Environment and Social Research Organization (ESRO), where we utilized the Youth-Adult Partnerships (Y-AP) model to engage school youth in India. In collaboration with adults, youth were given the responsibility to create awareness in their communities about various social and environmental issues. I provided consultation on various programs, ideas on activities, and different models of engaging school youth in these issues; the ESRO team implemented the Y-AP model in 18 different schools over 2 years. We learned that Youth-Adult partnerships (Y-AP), especially through collaborative decision-making in community work, promoted a sense of self-efficacy, responsibility toward their communities, civic engagement, academic outcomes, and positive identity among youth. Based on this foundational work, in 2018, with a federal grant, I created a collaborative partnership (interdisciplinary, intercultural, and international) among Humboldt State University, Lady Irwin College, New Delhi, and three non-profit organizations in India. Seven students and two faculty members from HSU traveled to India and collaborated with the Indian partners (8 college students from India, faculty partners, and NGO partners) to work in two rural communities of North India.
Resilience, identity exploration, and belongingness among Latina student parents in higher education: Utilizing the lifespan perspectives, intersectionality, and resilience frameworks, the current study examined the experiences of eight Latina mothers, between ages 22 to 29 years. The Latino population is growing exponentially in the United States, more specifically in the state of California. While there are many studies undertaken on Latino students on campus, fewer studies focused on Latina student mothers in higher institutions. In this research, Latina student mothers on our college campus identified risk and protective factors while navigating their education and motherhood. Our study contributes to the limited studies on student parents, more specifically Latina student mothers.
4. Your one wish for the study of human development
I would like to see the field of human development continuing to become more inclusive with diverse worldviews, voices, frameworks, and methodologies. We have made progress over the years (e.g., Diversity Science Initiative) but we have a long way to go to enrich the field.
5. A mentoring statement or quote you find most meaningful or life-changing.
Mentoring is a reciprocal process in which both, the mentor and the mentee, engage in a mutually respectful and meaningful relationship, remain curious, learn from one another, and agree to disagree--a creative space for the mentee to shape their unique path and continue this same obligation for future generations.
About the researcher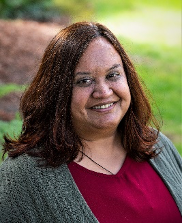 Dr. Meenal Rana is an Associate Professor in the Department of Child Development at Humboldt State University. Rana regularly teaches many classes in growth and development including Life Span Development, Methods of Observation, Parent-Child Relationships, Children and Stress, and Structure and Content of Children's thinking, Professional Development, and Academic Internships. Prior to her appointment at Humboldt, Dr. Rana was a Visiting Assistant Professor in the Department of Education and Human Development at Brown University (2012-2013). She received a Ph.D. in Human Development and Family Studies from Michigan State University. Dr. Rana's research interests include 1) examination of ethnoreligious identity formation among Sikh immigrant youth and their parents' socialization practices, 2) youth-adult partnerships, identity exploration among youth through engagement in environmental and social justice issues, specifically in India, and 3) resilience, identity exploration, and belongingness among student parents in higher education. In her leisure time, she likes to read, cook, and walk in the magnificent Redwood forests.
Edited and launched by Deborah J. Johnson & Yoko Yamamoto
SSHD Publicity Committee