Taking a closer look at research and experiences of SSHD members
~Researcher's Window~
This month we are getting better acquainted with the research of Ciara Smalls Glover, Associate Professor in the Department of Psychology at Georgia State University.

1. What drew you to do work in human development?
My mother was a passionate public school educator in a neighborhood high in economic need. I saw families of all economic, ethnic, family structure, and geographic backgrounds succeed despite the odds and became fascinated with how families contribute to the development of healthy children. My observations were also based on my own upbringing. I wanted to know if there were specific mechanisms that were increasing the likelihood of positive development.
2. Did you have a mentor or a researcher who had substantial influence in your path or work? Is there a significant moment or story that capsulizes the nature of that influence on your scholarship or professional journey?
There are two groups really. The first is the dedicated mentors that I have worked with from Morgan State University (Terra Reid, Warren Rhodes, Carrol Perrino, Robert Smith), University of Michigan (Robert Sellers, Stephanie Rowley, Tabbye Chavous, Chris Peterson), and UNC-Chapel Hill (Vonnie McLoyd). My mentors taught me the importance of examining racial-ethnic identity, family socialization, discrimination, and coping. Equally as important, as I age, is that many of them modeled how to address race and/or gender-related adversity in the academy. In addition, my colleagues are amazing models in their roles as professional counselors, administrators, and scholars in the field. They continue to remind me that there are many avenues to strengthening communities of color.The second are the talented graduate and undergraduate students with whom I have the privilege of working. Most of my undergraduate team has volunteered their time while balancing full academic loads, family obligations, and employment. I admire their tenacity to pursue research, usually as the first in their families to do so. It is rewarding to play a role in their development and to celebrate as they receive awards and honors for their research projects in our lab. The community of students that I mentor and collaborate with, has also inspired the line of research dedicated to understanding factors (e.g., identity, familial, institutional) that bolster academic persistence for students exposed to adversity.
3. You have a range of important work, select 1-2 findings that you feel are key contributions to human development and describe those in brief. What might be the cultural, inclusion or global significance of your work?
One main line of work examines family climate as a context for messages about race/ethnicity. Latent profiles allow me to examine patterns of family socialization and relational quality. In this way, the approach identifies the role of family socialization in multifaceted contexts and how those patterns are associated with mental health and academic success.Another line of work examines risk and protective factors on STEM persistence and overall health of adversity-exposed college students. My research uses a strengths-based approach to examine the roles of culturally-relevant family messages, and an examination of adversity- structural and interpersonal- that are associated with student retention. The experience of students fleeing their home country or those adjusting to group stigmatization and intergroup discrimination in the US are included in adversity-exposure. Students also report being impacted by structural inequalities in the United States. My work identifies the key mechanisms that aid in buffering those experiences at the individual, collective and institutional levels.
4. Your one wish for the study of human development
My one wish would be that we continue to appreciate the complexity of development across populations. Further, I wish that our appreciation would result in dissemination to broader audiences that include those from diverse ethnic and racial backgrounds. I recently reported the strategies that were most effective for recruiting an under-voiced community, non-college attending young adults (forthcoming in Emerging Adulthood: Sexuality in Emerging Adulthood [Morgan and van Dulmen Eds, Oxford series). That work serves as a reminder to me that there are under-voiced communities whose development we need to better understand. Doing this work will benefit the field as we refine theories, develop tailored interventions, and inform public policies that are transformative.
5. A mentoring statement or quote you find most meaningful or life-changing.
"It is not the critic who counts… The credit belongs to the man who is actually in the arena, whose face is marred by dust and sweat and blood; who strives valiantly…who spends himself in a worthy cause; who at the best knows in the end the triumph of high achievement, and who at the worst, if he fails, at least fails while daring greatly…"--Theodore Roosevelt
About the researcher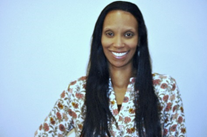 Dr. Ciara Smalls Glover is an Associate Professor in the Department of Psychology and has affiliations with the Partnership for Urban Health Research, the Department of African American Studies, Resilient Youth, and Transcultural Violence and Conflict. She is on the editorial board at Cultural Diversity and Ethnic Minority Psychology. Her program of research examines family dynamics and cultural strengths that mitigate interpersonal and institutional adversity. Dr. Glover uses a strengths-based approach to identify factors that buffer emotional, academic, and physical health declines. An emerging line of work applies this strengths-based approach to STEM persistence at economically and ethnically diverse institutions. She earned her B.S. at Morgan State University, her Ph.D. from the University of Michigan, and her postdoctoral studies at UNC-Chapel Hill.

Edited and launched by Deborah J. Johnson & Yoko Yamamoto
SSHD Publicity Committee